As we transition between seasons, many of us start feeling the need for a detoxification or detox. Whether it's to help kickstart clean eating or it's a detox to lose weight, our bodies seem to crave a reset or essentially a way to clean the slate and start fresh. 
In this post we'll cover the overall approach to a detox, the benefits of a detox, and specifically explore the role a detox smoothie can play in your detoxification journey. Read on to learn all about delicious detox smoothie and the health benefits it can deliver.
NOTE: Do not pursue any detox or cleanse without first consulting with your medical professional.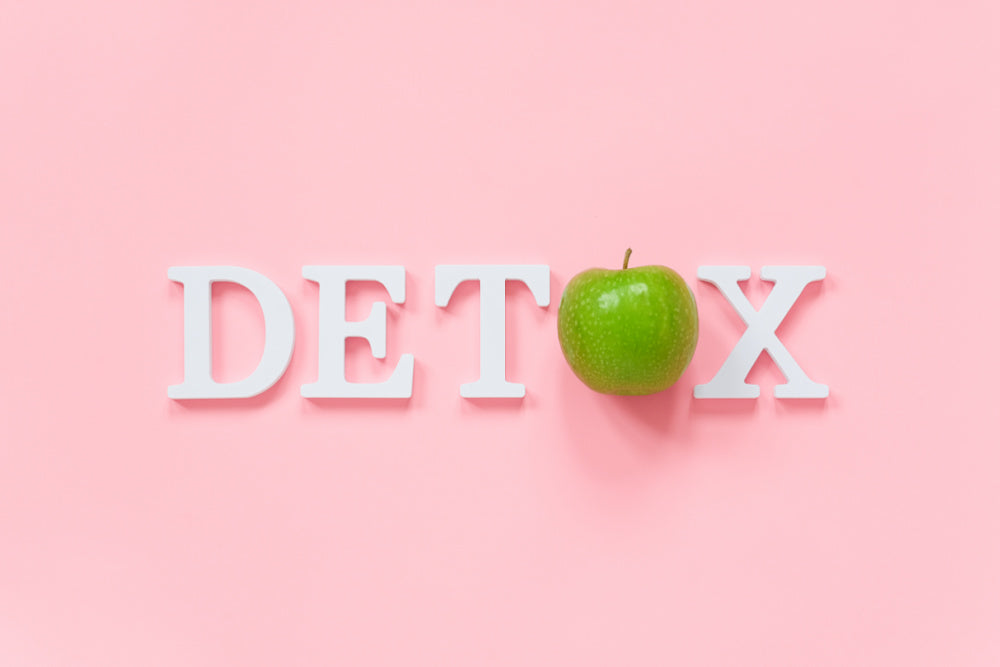 What is a Detox and How Does it Work?
Detoxing, or detoxification, is simply the process of expelling toxins from the body more rapidly than normal. Our bodies are exposed to low levels of toxins on a daily basis and our bodies' natural systems are designed to manage and expel these toxins. However, the toxins all around us...in the air, water, and food/drink we consume have dramatically increased in modern times and our slowly-developing natural systems simply can't keep up.
The theory behind a detox (also called a cleanse) is that by eliminating either solid foods or specific food groups, you're giving your digestive system the break it needs to catch-up. Typically a period of fasting is followed by a diet of fruits and vegetables and fruit juices.
Although the science is somewhat unclear, many people report feeling much more energetic and focused during and after a detox or cleanse. What's not clear is if this is a result of a greater number of toxins leaving the body or if it's simply a reaction to eating healthier in general and severely limiting high-calorie, low-nutrition processed foods. Either way, go with what works for you and wash those toxins out of your body!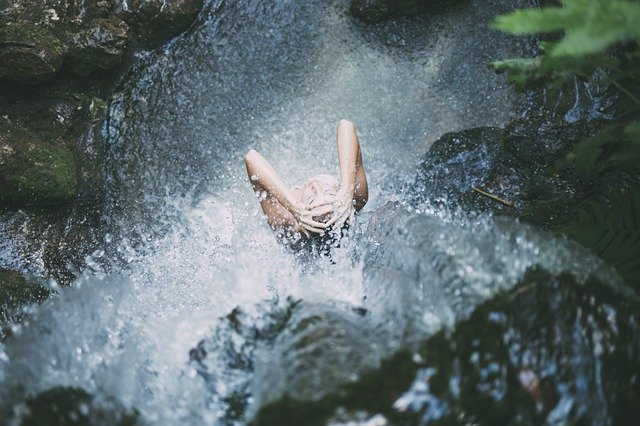 What are the Benefits of a Detox?
The benefits of a detox or cleanse are varied, and they vary by person, but some of the most widely reported benefits include:
A feeling of rejuvenation

Increased energy (physical and emotional) to face the day

Immune boosting to help you fight infection

Better sleep

Healthier skin

Improved digestion

Lower stress

Clearer thinking and concentration

Weight loss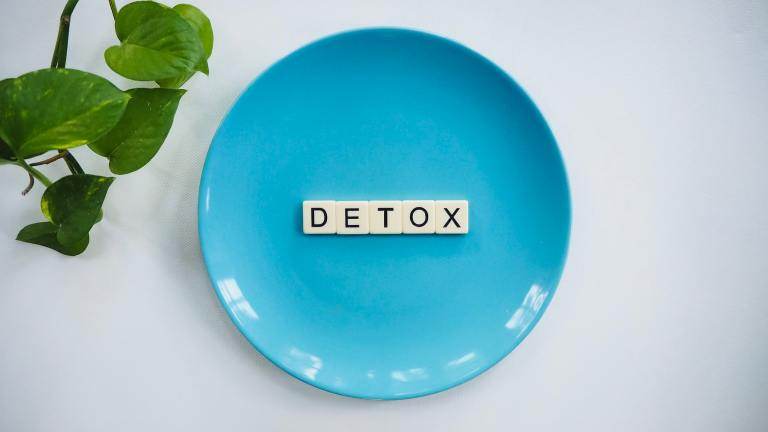 What is a Detox Smoothie?
A key tenet of any detox smoothie or smoothie cleanse is to incorporate as many fruits and vegetables into your diet as possible. Smoothies are a very efficient (and tasty) way to bring these healthy ingredients into a single meal or meal replacement.
Because leafy greens consumption is a focus for most detoxes, they oftentimes dominate a smoothie, turning it into a green detox smoothie. These green smoothies are heavy on ingredients like frozen kale, baby spinach, dandelion greens and celery from which they derive their green color.
However, just because you're drinking a detox green smoothie, that doesn't mean it has to taste like just spinach! Adding additional ingredients like frozen fruits, seeds and supplements can help modify both the flavor profile and the nutritional value of your green detox smoothie recipe. Some of our favorite flavor-boosing add-ins include: frozen banana, frozen mango, flax seeds, hemp seeds, chia seeds, pineapple, fresh ginger, lemon, and even that kick of cayenne.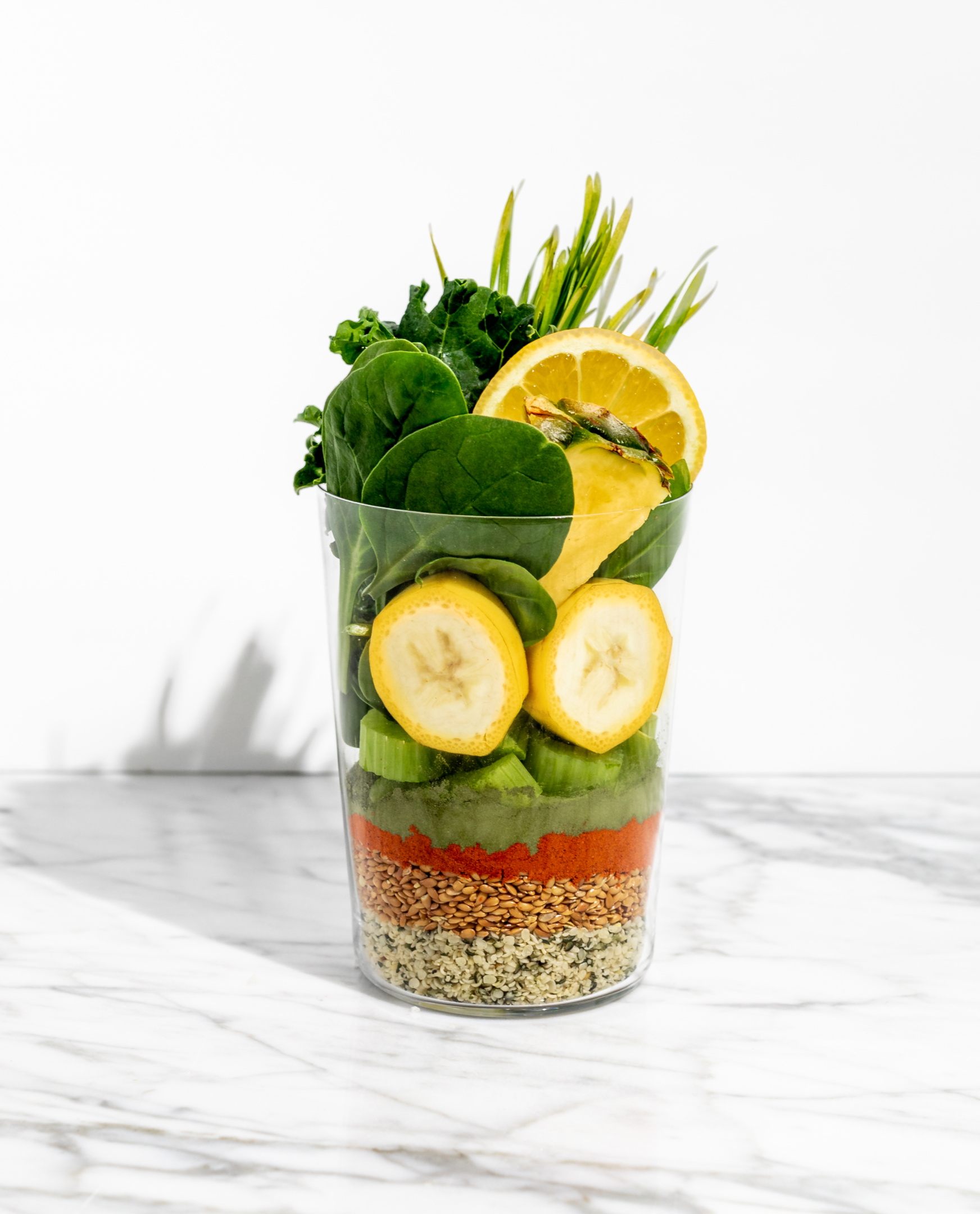 Detox Smoothie Ingredients
The most important rule for a green detox smoothie, or any smoothie, is to be very aware of the ingredients going into it. For instance, a medium Aloha Pineapple smoothie from Jamba Juice contains a whopping 77 grams of sugar and 89 grams of carbs.
Compare that to the 7 grams of sugar and 12 grabs of carbs found in a Blendtopia detox smoothie, and you can really see that the ingredients make the smoothie.
Before we get to exactly what ingredients are good for a green detox smoothie, let's cover a few points that are important for all detox smoothie ingredients:
Find organic ingredients whenever possible. You're undergoing a detox, the last thing you need is to add unneeded pesticides, contaminants or other toxins to the mix.

Along with the above point, also make sure you thoroughly wash all of your detox smoothie recipe ingredients thoroughly for the same reasons
Without further ado, let's take a look at some of the key ingredients you should be considering when building your detox smoothie recipes: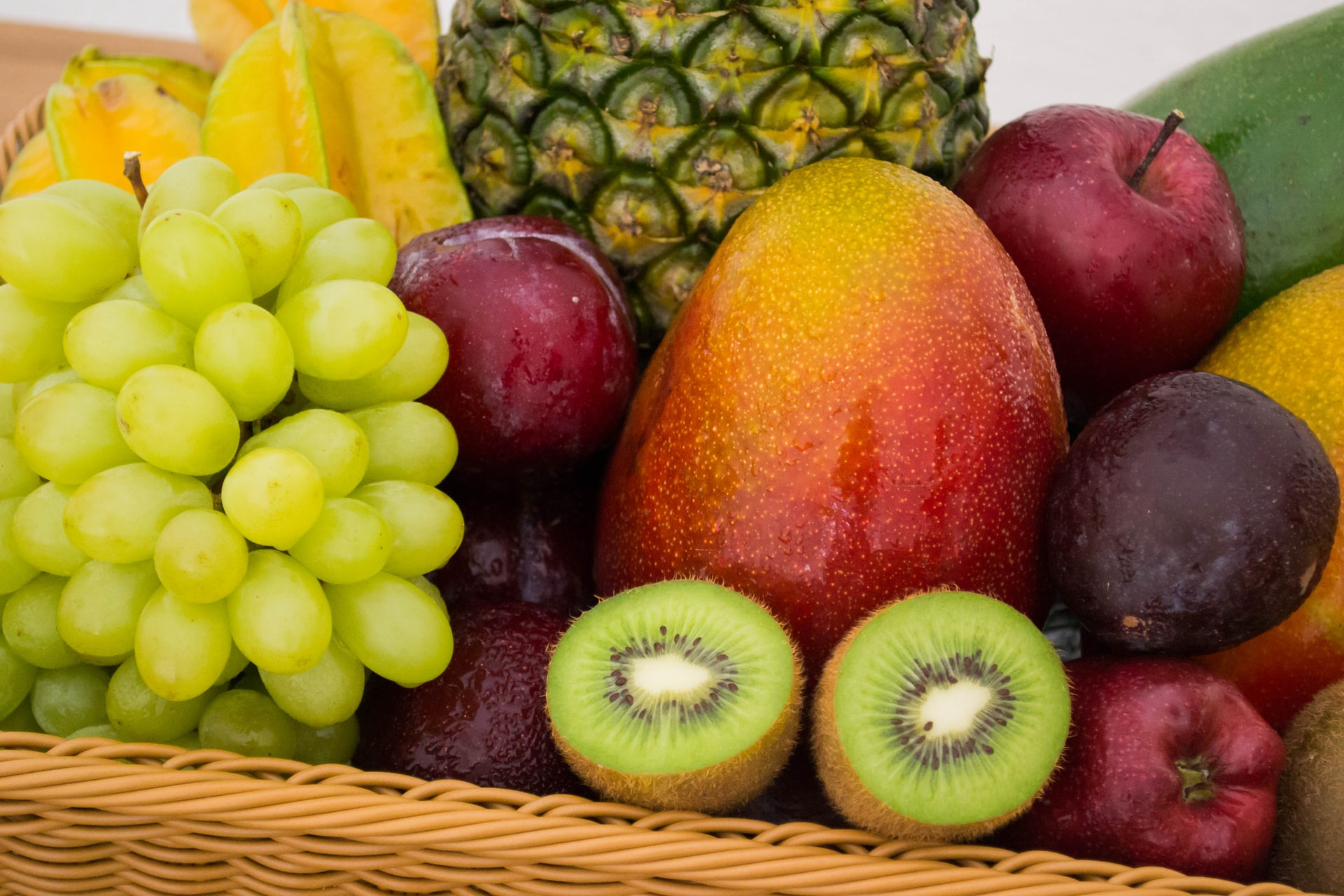 "Base" Ingredients - the core of the smoothie recipe, primarily fresh or frozen fruits or veggies which will have a significant impact on taste (1-2 cups):
Apple

Orange

Kiwi

Melon

Berries

Beets

Cucumber

Pineapple

Mango

Peaches

Frozen berries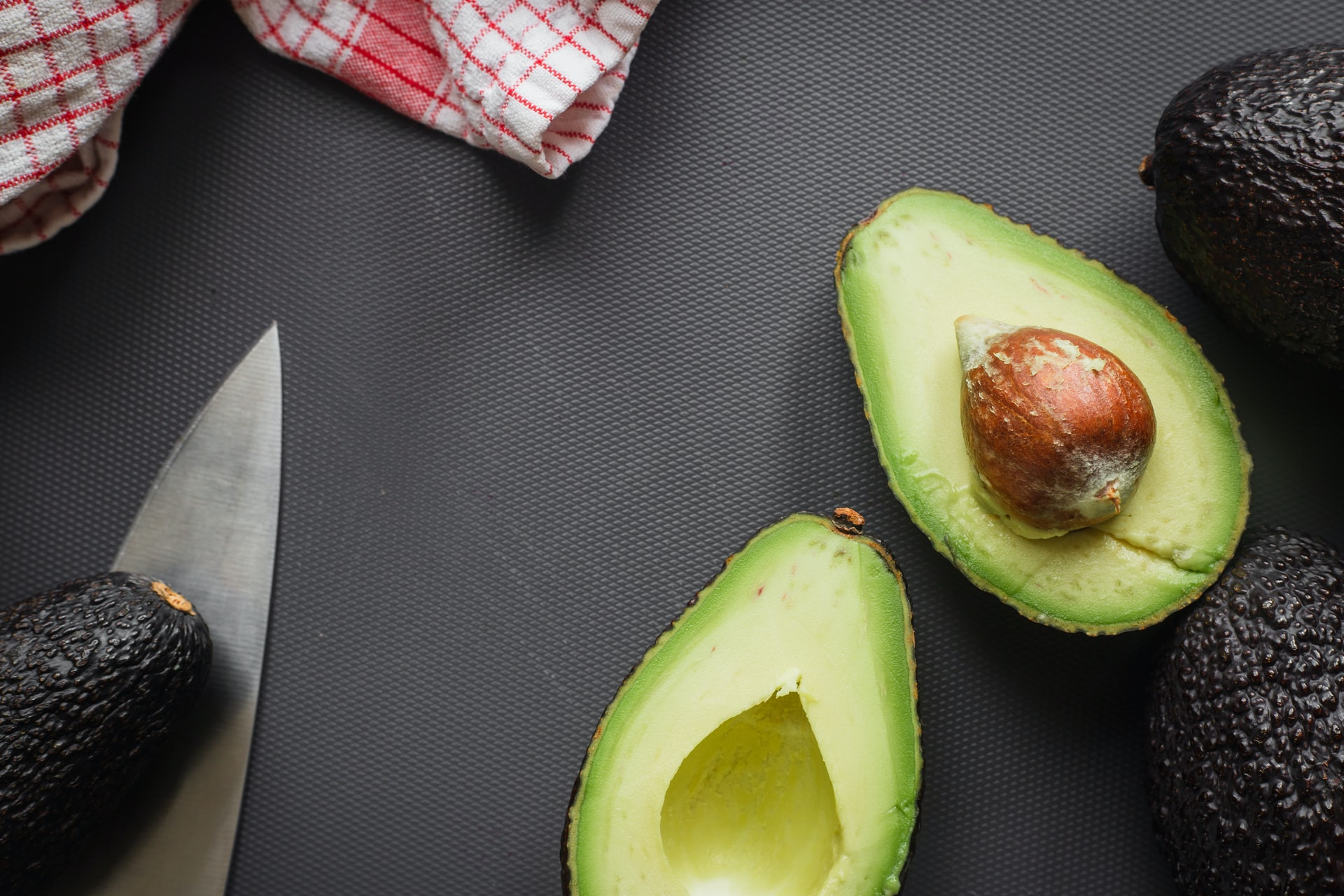 Creamy Ingredients - these give your detox smoothie recipes that smooth creamy flavor and mouth feel that sounds delicious just writing about (amount to taste):
Banana

Avocado

Coconut

Unsweetened natural yogurts

Blanched almonds

Nut butter like almond butter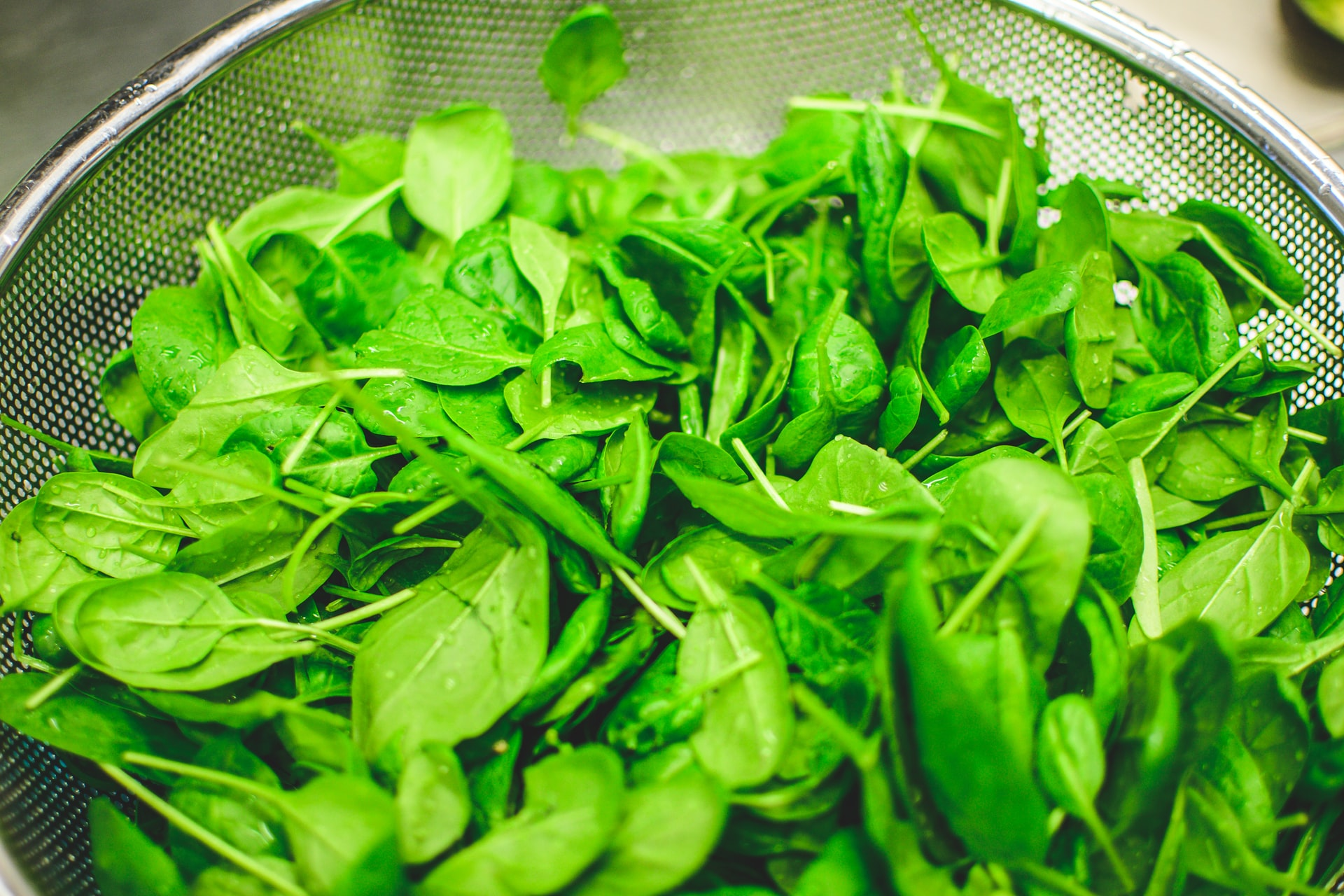 Greens. Gotta get your leafy greens in there (1-2 cups):
Spinach

Kale

Romaine or radish greens

Bok choy

Chard

Collards

Beet greens

Arugula

Dandelion greens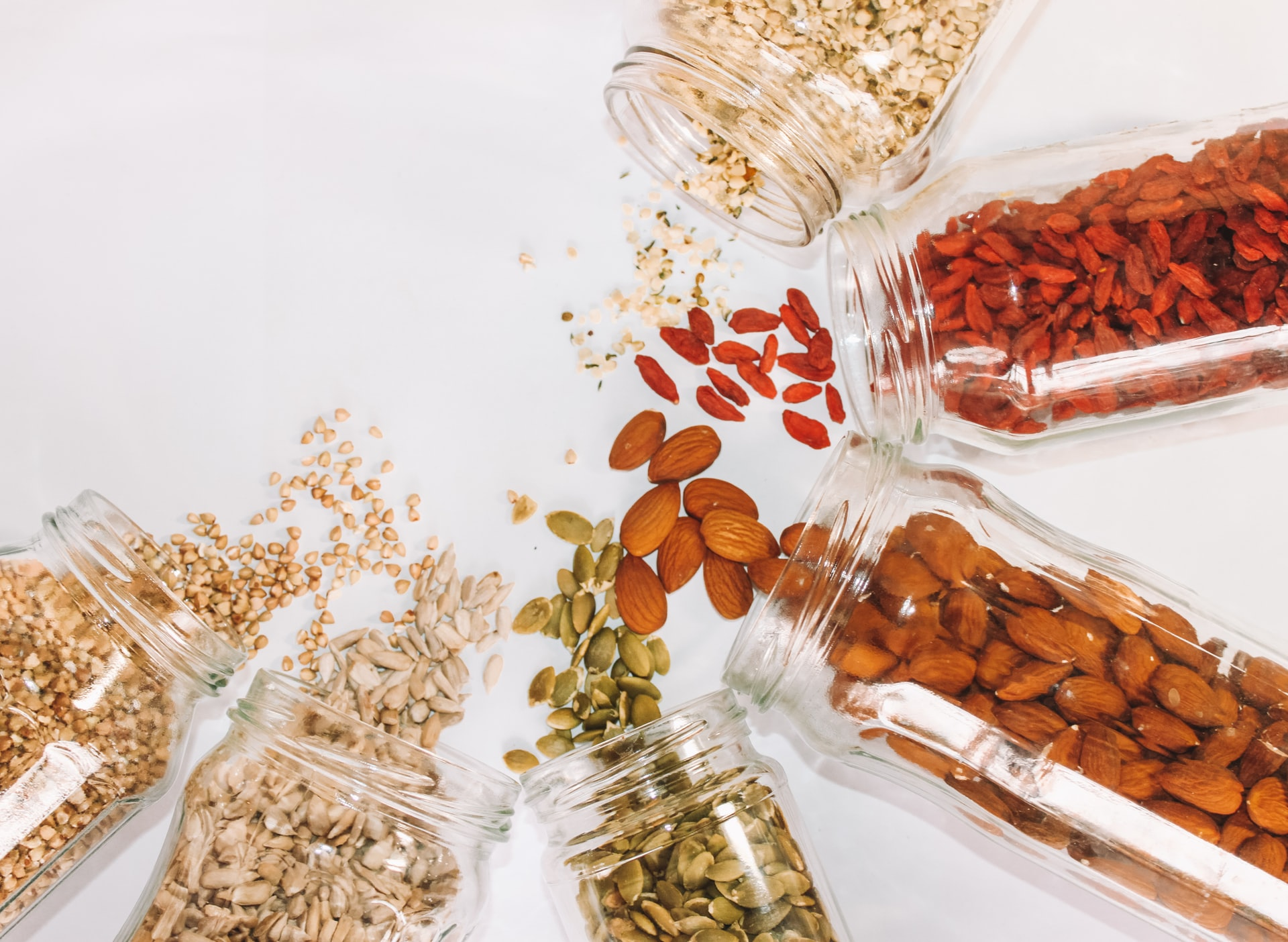 Nutritional Boosters - level up your detox smoothie with:
Chia seeds

Hemp seeds

Flax seeds

Ginger, lemon, cayenne



Coconut, flax, or hemp oil

Superfood powders like chlorella, spirulina, wheatgrass

Frozen raw broccoli or cauliflower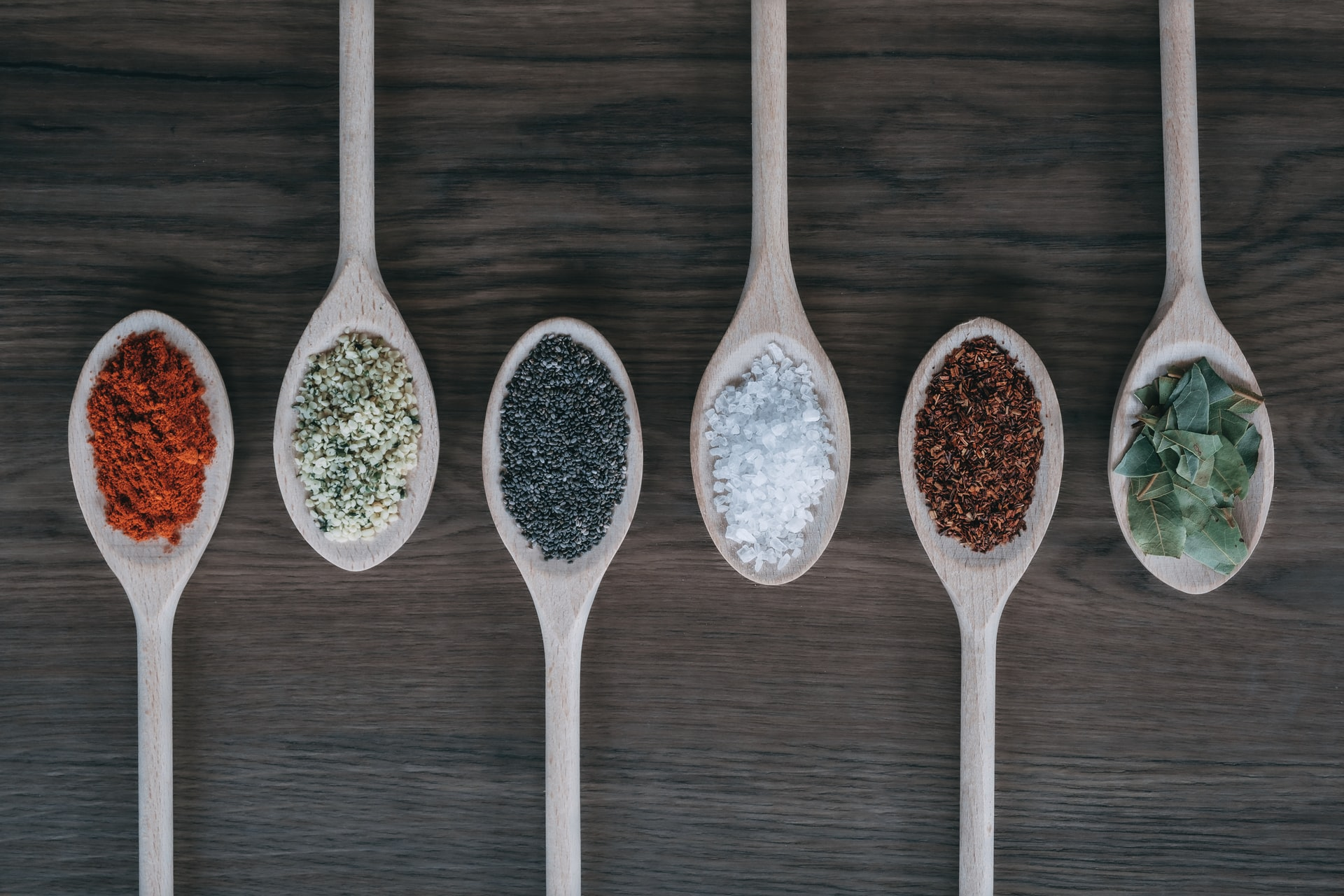 Flavor Accelerators - hit the gas on a big burst of flavor with:
Cayenne

Red pepper flakes

Turmeric

Ginger

Cinnamon

Mint

Lemon juice or lime juice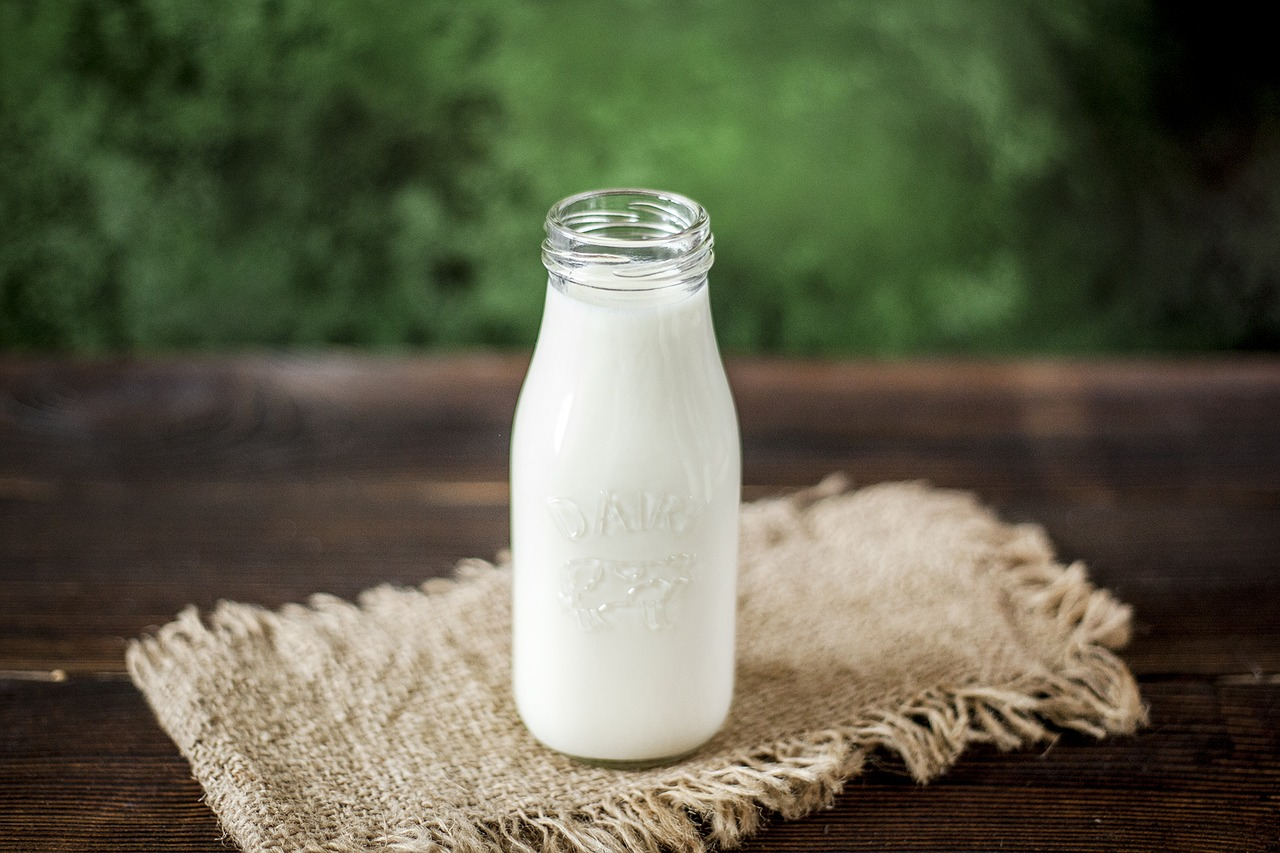 Best Liquid for a Detox Smoothie
The liquid you use for your smoothie is almost as important as the ingredients you add. It can dramatically impact the nutrition of the smoothie, in addition the liquid plays a key role in both the flavor and the consistency.
Overall, our recommendation for a green detox smoothie is to use a non-dairy option - water, diluted juice, green tea or plant-based milks.
Water is a great option - zero calories, zero flavor, and easy to access. However, it also doesn't bring anything interesting to your smoothies - in either taste or nutrition - to make them especially enticing. Water is a great, albeit not exciting, liquid choice for your detox smoothie. Coconut water is an option that's low in calories and carbohydrates plus it's rich in electrolytes to help with hydration.
Fresh juice is another popular option for smoothie recipes, bringing both flavor and nutritional value. Be cautious with using juice, you'll want to pay close attention to the nutritional information. For example, an 8oz glass of orange juice can have 27g of carbohydrates, which may not fit into your objectives. Juice will typically bring a significantly increased sweetness to your smoothie, so be aware.
Plant-based milks are our #1 recommendation for a detox smoothie recipe. Unsweetened almond milk, coconut milk, and soy milk are all great options. Our favorite is unsweetened almond milk because it brings flavor and creamy texture while still delivering a good mix of healthy fats and protein. To learn more about almond milk, coconut milk or any of the plant-based milks, check out our article: The Best Milk for Smoothies.
Does it Have to be a Green Detox Smoothie?
To this point, we've used the terms "detox smoothie" and "green smoothie" interchangeably, and often combined them in the term "green detox smoothie." This raises the question - does a detox smoothie have to be a green smoothie?
The answer is, naturally, "it depends."
If we're purely talking color, no, a detox smoothie does not necessarily need to be a green smoothie. The ingredients you choose can have a significant impact on the color of your smoothie. No doubt you can change the color of your smoothie if you use fresh grated ginger, turmeric or extra berries, among just few ingredients.
The more debatable question is likely whether a smoothie needs to contain greens (baby spinach, kale, etc.) to be considered a detox smoothie. The answer is a hesitant no. There's no hard and fast rule that a detox smoothie has to contain greens, however the nutritional value they deliver, along with the antioxidant and anti-inflammatory properties, make them almost required. I can't imagine making a detox smoothie without a heavy dose of greens, I would suggest the same for you.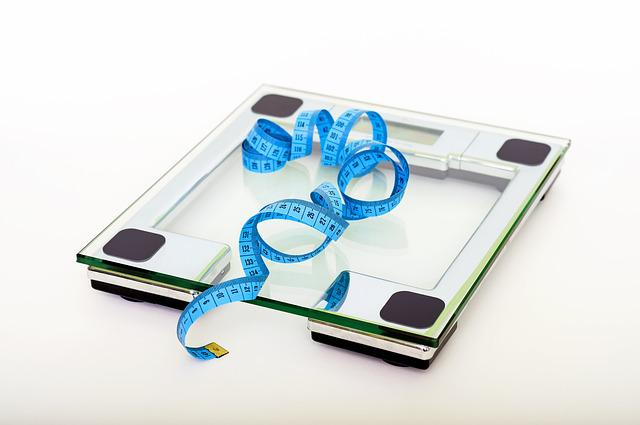 Detox Smoothies for Weight Loss
There is no question that a detox smoothie can be a helpful tool to help you lose weight. Packed with nutrients and vitamins, a detox smoothie can be customized to meet whatever nutritional goal you are trying to achieve, including weight loss.
Check out our article on detox smoothies and weight loss here: Detox Smoothies that Promote Weight Loss. The most important line from that article:
No one, single tool is going to make much of a difference with weight loss long term, that's why it's important to pair healthy green smoothies with exercise, proper sleep, and a healthy lifestyle overall!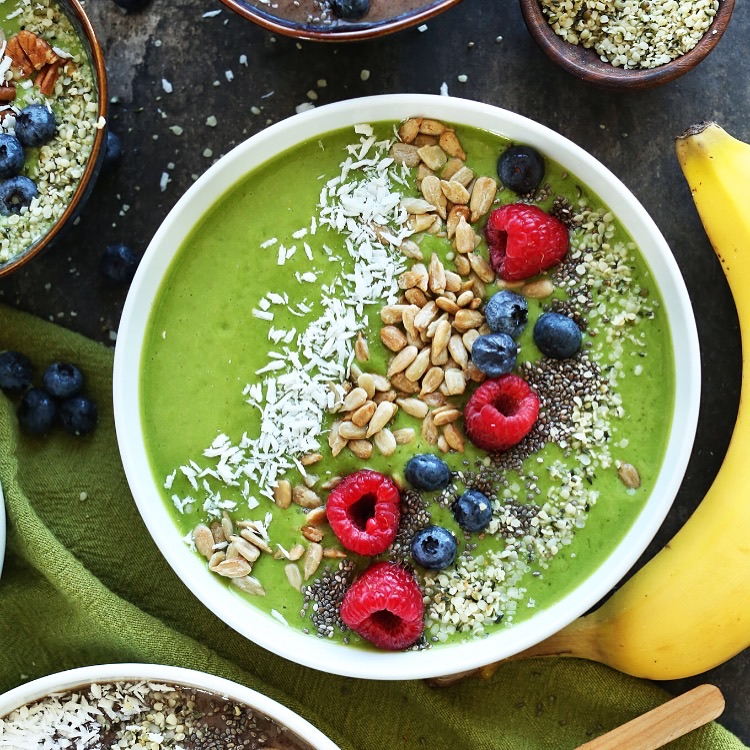 Detox Smoothie Recipes
As you've seen, detox smoothie recipes are as varied as smoothie ingredients and smoothie drinkers. Follow this general plan to build your own detox smoothie recipe:
Choose your liquid. Our recommendation is unsweetened almond milk, but pick the liquid that works best for your goals. 1-2 cups is generally ideal

Choose your base ingredients. Typically 2-3 from the above list of detox smoothie ingredients is ideal, for a total of around 2 cups. If you're not sure what you like, try starting with pineapple and blueberries, it's always a crowd favorite

Get at least one creamy ingredient in there, generally a cup full or to the consistency you like. We like frozen banana, avocado, and unsweetened Greek yogurt for our detox smoothies. This is even more important if you're creating a smoothie bowl. Additionally, your choice of liquid will impact consistency, unsweetened almond milk is great for thickness.

It's time for the greens. Get a cup or two of baby spinach or kale to throw in the blender with your other smoothie ingredients and blend until smooth.

Get your boost on. Add a tablespoon of any of the "nutritional booster" smoothie ingredients from the list above. All of these can be added to the blender, some are also enjoyable as a topper on your smoothie such as coconut, flax seeds and chia seeds.

Pump the flavor (if you like). Adding spices like cayenne, turmeric or curry powder not only delivers significant nutritional benefits, but they can really add a boost to your flavor profile. If you find that your smoothie isn't sweet enough, check out our article: 4 Healthy Ways to Make a Smoothie Sweeter.

Whirl away! Toss it all in a blender and blend until smooth - or at least the consistency you prefer. If you want to make a detox smoothie bowl, check out: How to Make the Best Smoothie Bowls.
This outline provides you with the basics you need to create your own DIY detox smoothies at home. Have fun, get creative and try new flavors!
For more detox smoothie recipes, check out:
Blendtopia's Detox Smoothies
If buying and preparing all of the special ingredients for your detox smoothie recipes sounds daunting, not to worry. Blendtopia offers frozen, pre-portioned smoothie kits you can get at any Whole Foods , or online in a smoothie subscription.
Each Blendtopia smoothie kit contains 100% organic fruits, vegetables and superfoods. All you have to do is pour the contents of the smoothie pouch into your blender, add your liquid, and blend until smooth!
Blendtopia has several pre-portioned green smoothie kits including: 
Detox Smoothie
With a name like "Detox Smoothie," it's no wonder this smoothie appears here, it's purpose-made for a detox. This green smoothie aims to purify your body while helping to raise alkalinity and support healthy digestion. These green smoothies taste bright, fresh, and clean with a little cayenne kick!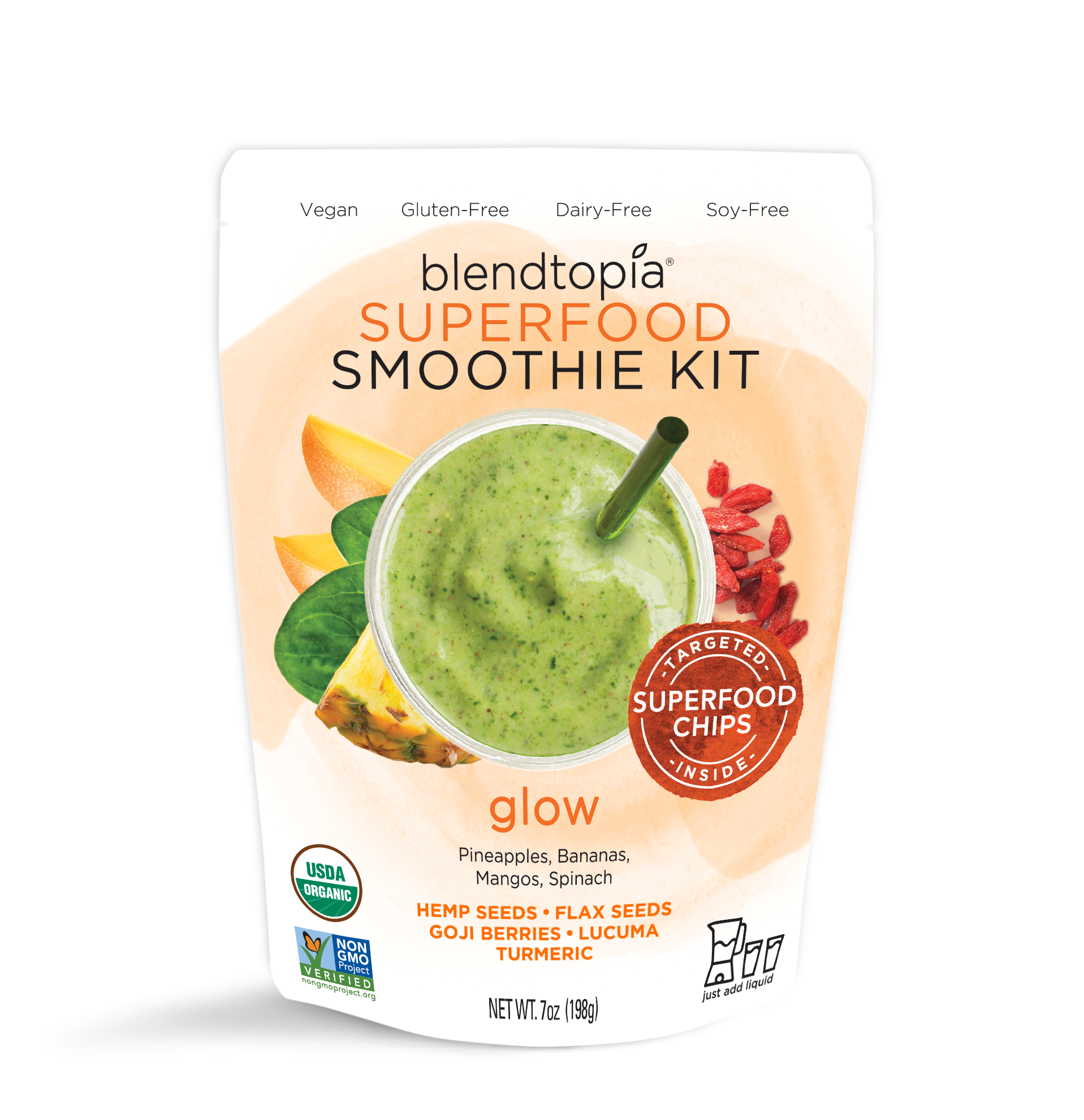 Glow Smoothie
Blendtopia's Glow Smoothie provides a bounty of 100% organic nutrient-rich beauty ingredients for healthier-looking skin, hair, and nails. It's loaded with vitamin C, healthy fats, and powerful antioxidants to help protect your body from the inside out. This green smoothie tastes like a sweet blend of pineapple and mango with a hint of spinach.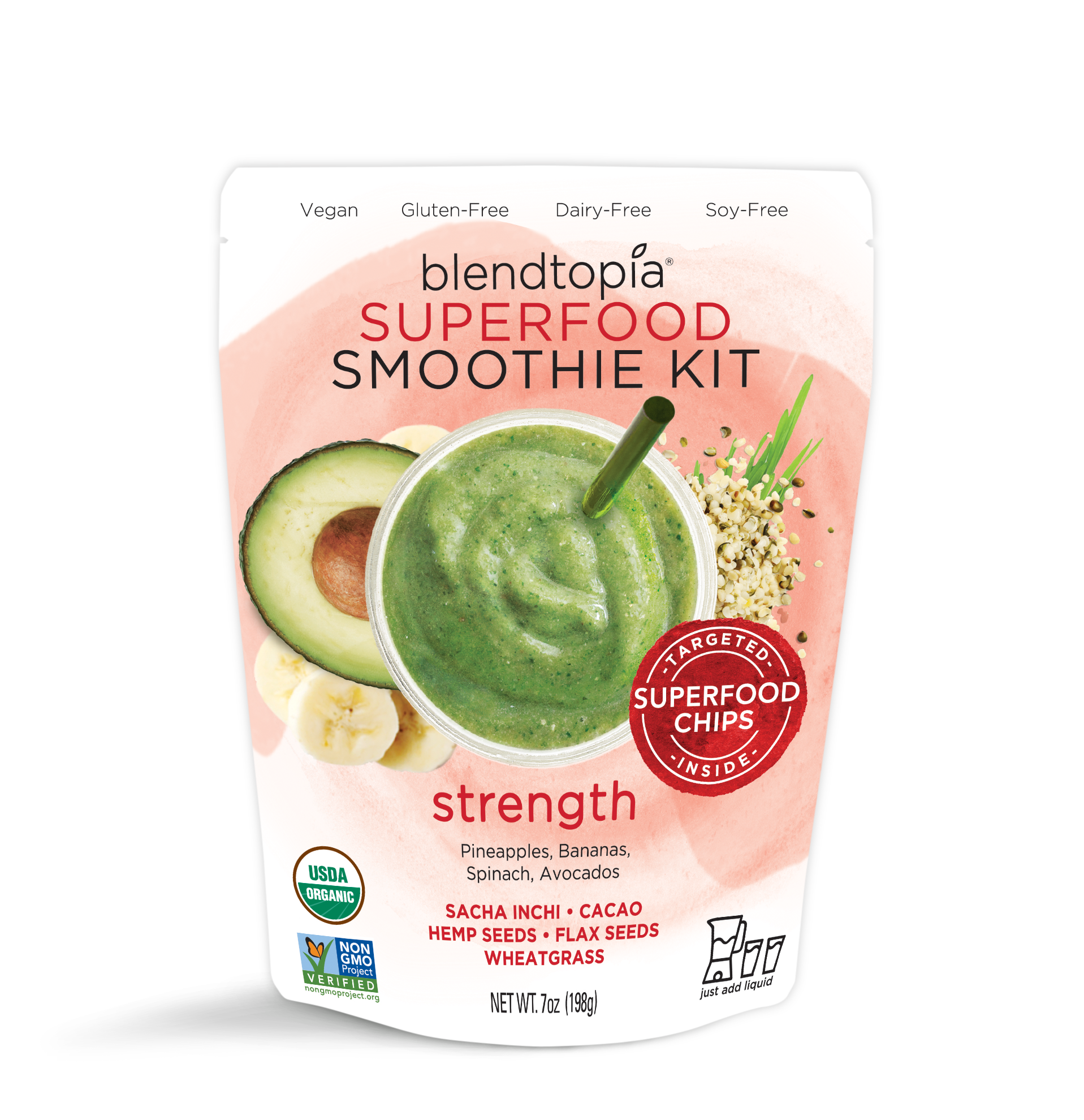 Strength Smoothie
Blendtopia's Strength Smoothie is a power-packed green machine that helps deliver sustainable energy throughout the day. It's a complete source of protein boasting essential amino acids, fiber, and omegas and is rich in vitamin C. This green smoothie tastes like creamy banana and avocado plus nutty hemp hearts.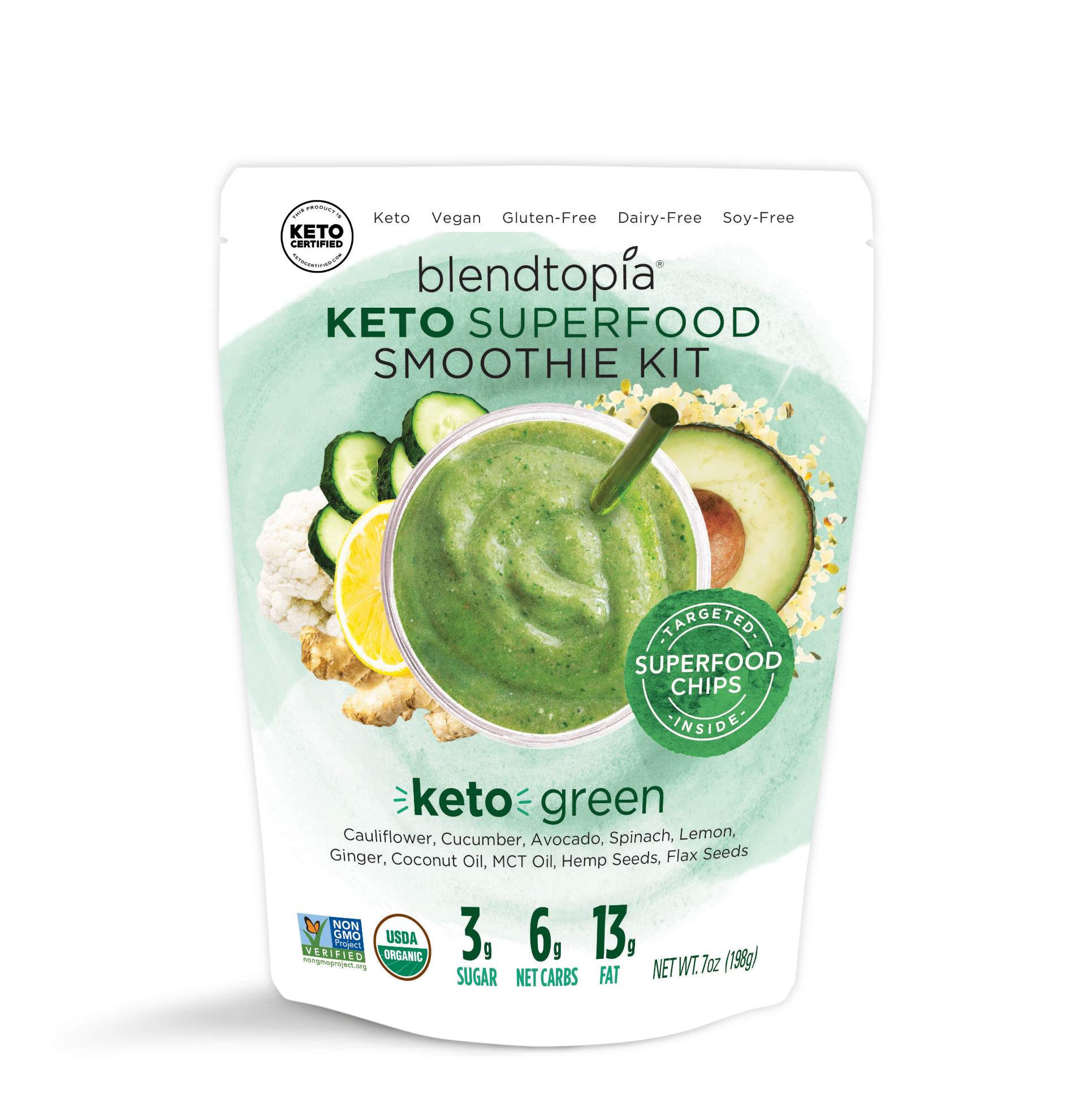 Keto Green Smoothie
Blendtopia's Keto Green Smoothie is a power-packed low carb green smoothie machine that delivers a perfect balance of protein, healthy fats, fiber, antioxidants and phytonutrients to power up and burn clean, all in a keto certified package. This green smoothie tastes like refreshing cucumber lemon water spiked with ginger.
Blendtopia's 7-Day Green Detox Smoothie Cleanse
This is a convenient smoothie box filled with enough of Blendtopia's green detox smoothies to perform a 7-day Smoothie Cleanse. You'll get 14 smoothie pouches total with our 7-Day Cleanse. You'll blend one full pouch (20 fl oz) for breakfast and one full pouch (20 fl oz) for lunch, followed by a healthy balanced dinner of your choice.
Detox Smoothie Wrap Up
Deciding on a detox (or cleanse) is a big step, something you should review with your doctor, however it can have significant positive impacts for both your physical and your mental health. Detox green smoothies can play a big part in this journey, just make sure you're careful with the ingredients you use or, alternately, use a smoothie delivery service like Blendtopia to ensure you're getting the correct nutrition.
Other Reading and More Smoothie Recipes: