Why We Love Wheatgrass in Smoothies
* Superfood Spotlight *
There is no doubt that vegetables can do wonders for your body since they are low in calories and high in nutrients. Vegetables, especially leafy greens, also are chock full of other health benefits that are sure to leave your body feeling better than ever. There are many yummy vegetables that pair perfectly with smoothie making, but there is one that is a step above the rest – wheatgrass!
Making its debut across the world, from health food marts to juice bars, wheatgrass is now the latest and greatest to enter the limelight in the world of natural health. It should come as no surprise – all superfoods are worth their weight in gold due to their amazing benefits.
Before we jump into the amazing properties of putting wheatgrass in green smoothies, let's take a deeper look into its history: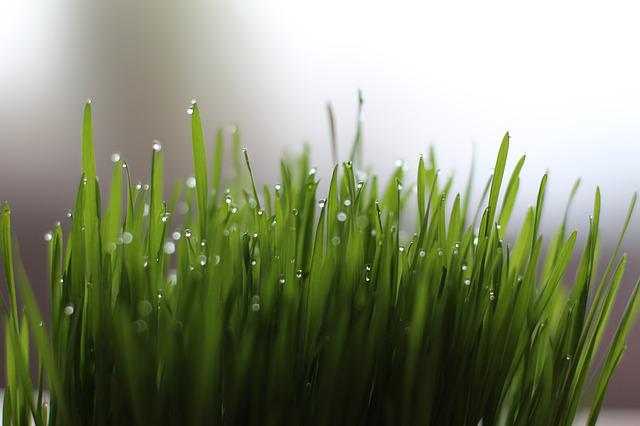 What is Wheatgrass?
Available in both fresh and powdered form, wheatgrass is also known as Triticum aestivum, or common wheat. Instead of being allowed to grow into a full wheat plant ready to harvest, wheatgrass is harvested early on, shortly after sprouting. Both forms of wheatgrass, fresh and powdered, are beneficial for your body; however, fresh wheatgrass juice is a super potent health food that is probably considered more popular.
Wheatgrass looks like ordinary grass that you'd find in your lawn, but its health benefits are far superior to ordinary grass. Many farmers grow it to feed the animals, while people purchase it or grow wheatgrass themselves to incorporate into their diets. Wheatgrass seeds germinate in as few as 2-3 days and only takes 6-10 days until it's ready to harvest. It's super quick and super easy to grow your own!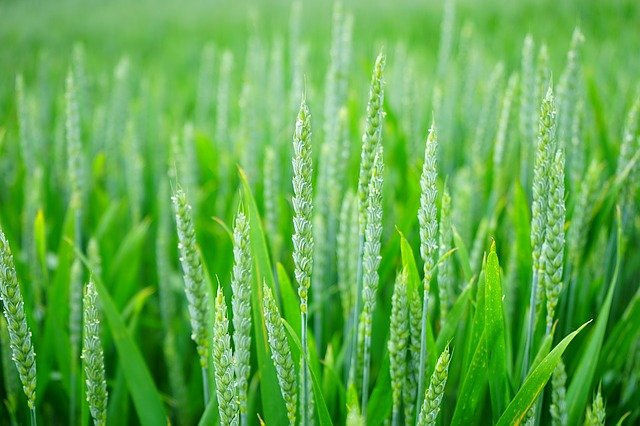 History of Wheatgrass
Wheatgrass can be traced back to ancient Egypt and perhaps even earlier to the Mesopotamian civilizations. More recently, the consumption of wheatgrass in the Western world increased significantly in the 1930s because of experiments carried out by Charles F. Schnabel in an attempt to popularize the wheat plant.
Schnabel conducted his first experiments with young grasses in 1930. He used fresh cut grass in an attempt to nurse dying chickens back to health. The hens did not only get better but they started producing eggs at a higher rate than other chickens. Then he started making powder of the leaves for his friends and family.
After that, two large corporations also invested millions of dollars in further research, development, and production of products for humans and animals. Ann Wigmore also studied about 4700 varieties of grass, used it to help win her battle with cancer, and declared that wheatgrass is the best medicinal grass available on the market.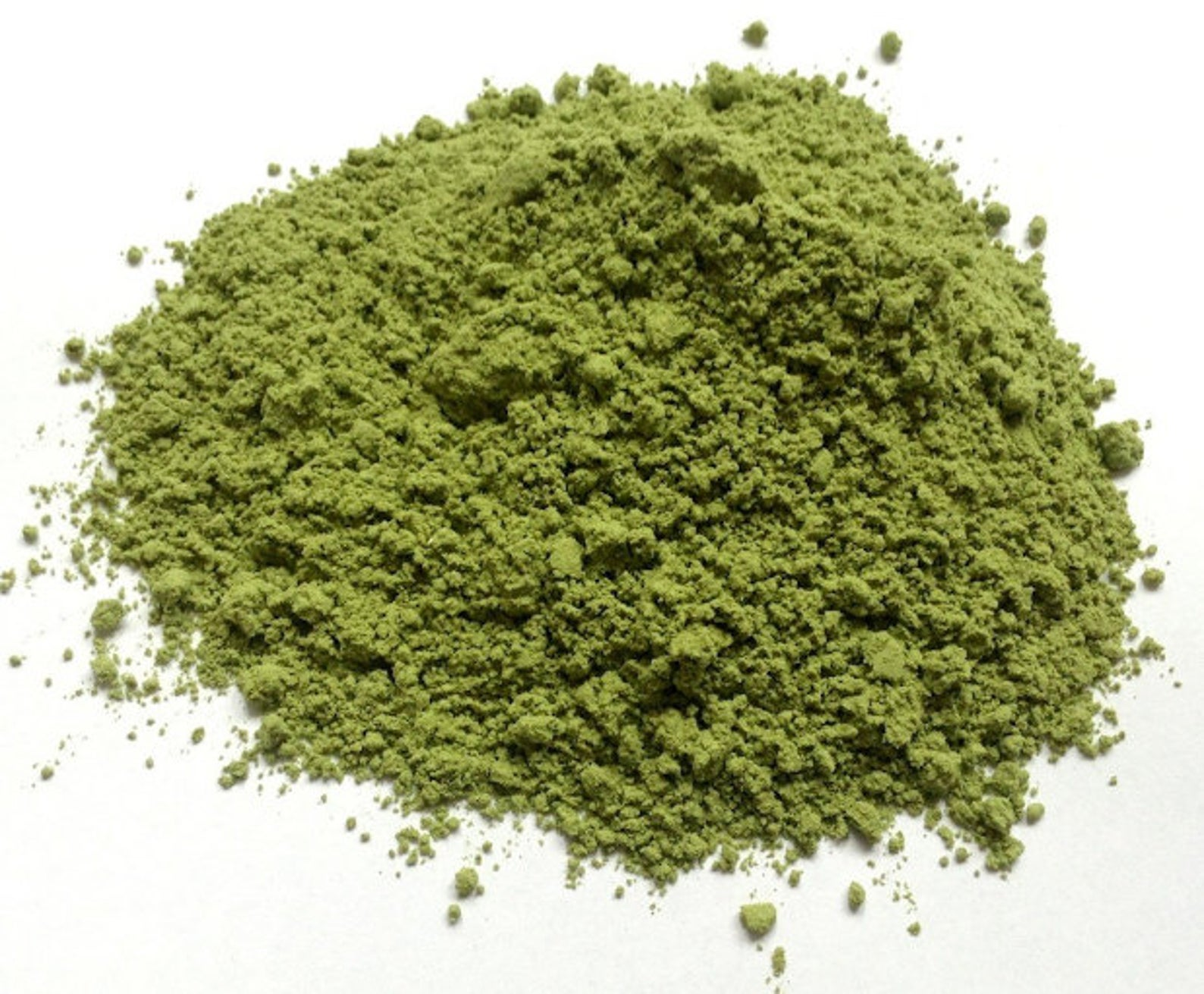 Traditional Uses of Wheatgrass
Due to its plethora of benefits, raved by health enthusiasts, wheatgrass has gained immense popularity in recent years. There are many ways to use wheatgrass in your diet. You can take this living food as an everyday health tonic, or you can use it to make delicious smoothies. Simply add a shot of wheatgrass juice to your smoothie mix, or just add the fresh wheatgrass directly into the blender with everything else. Moreover, wheatgrass can be used as a remedy to help overcome different health issues ranging from gastrointestinal disease, low blood circulation, increased cholesterol levels, obesity, diabetes, arthritis, and many more.
More recently, wheatgrass shots have been offered at many health food outlets and frozen wheatgrass juice is making its appearance on store shelves across the world. Whether adding your own wheatgrass to food products, or using wheatgrass powder or wheatgrass juice in recipes, this superfood is certainly having a moment.
Benefits of Wheatgrass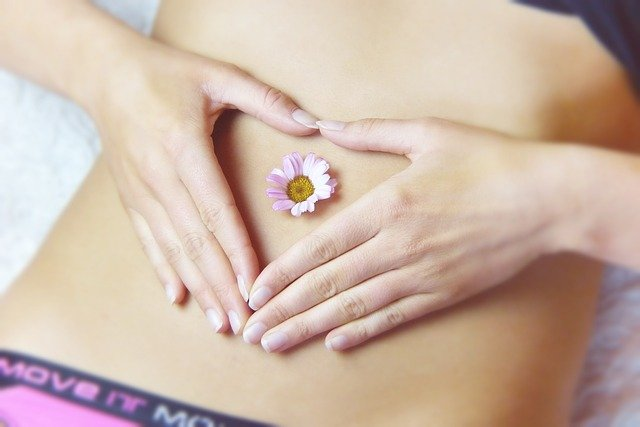 Promotes Digestion
Our stomachs go through many digestive problems more often. Sometimes it is too sensitive to absorb the nutrients. Therefore, wheatgrass can be used as a remedy for your digestive issues. Add this potent food to your smoothies, make a juice or eat fresh wheatgrass to treat diarrhea and rectal bleeding and reduce symptoms of other serious gastrointestinal issues.
Removes Toxins
Your body gets so many impurities and stored toxins on a daily basis. Thus, you must detoxify them. The nutrients in wheatgrass can help you in getting rid of toxins. Further, the cleansing of your body increases energy levels and promotes better health.
According to a 2015 research source, wheatgrass also improves liver function by removing toxic substances.
Helps your body heal and recover from battling cancer
As said earlier, wheatgrass has antioxidants, and these antioxidants can potentially fight off cancer cells. Some studies claim that wheatgrass also helps in cancer treatments. In addition to these studies, test tube studies show that wheatgrass can help kill leukemia cells and mouth cancer. However, the research is quite limited, and additional evidence is needed to verify.
Boosts Immunity
The living food wheatgrass is super beneficial for your immune system as it contains immunomodulatory properties. You can also add a shot of wheatgrass to your diet during cold and flu season to help keep sickness at bay, or to help to body recover more quickly.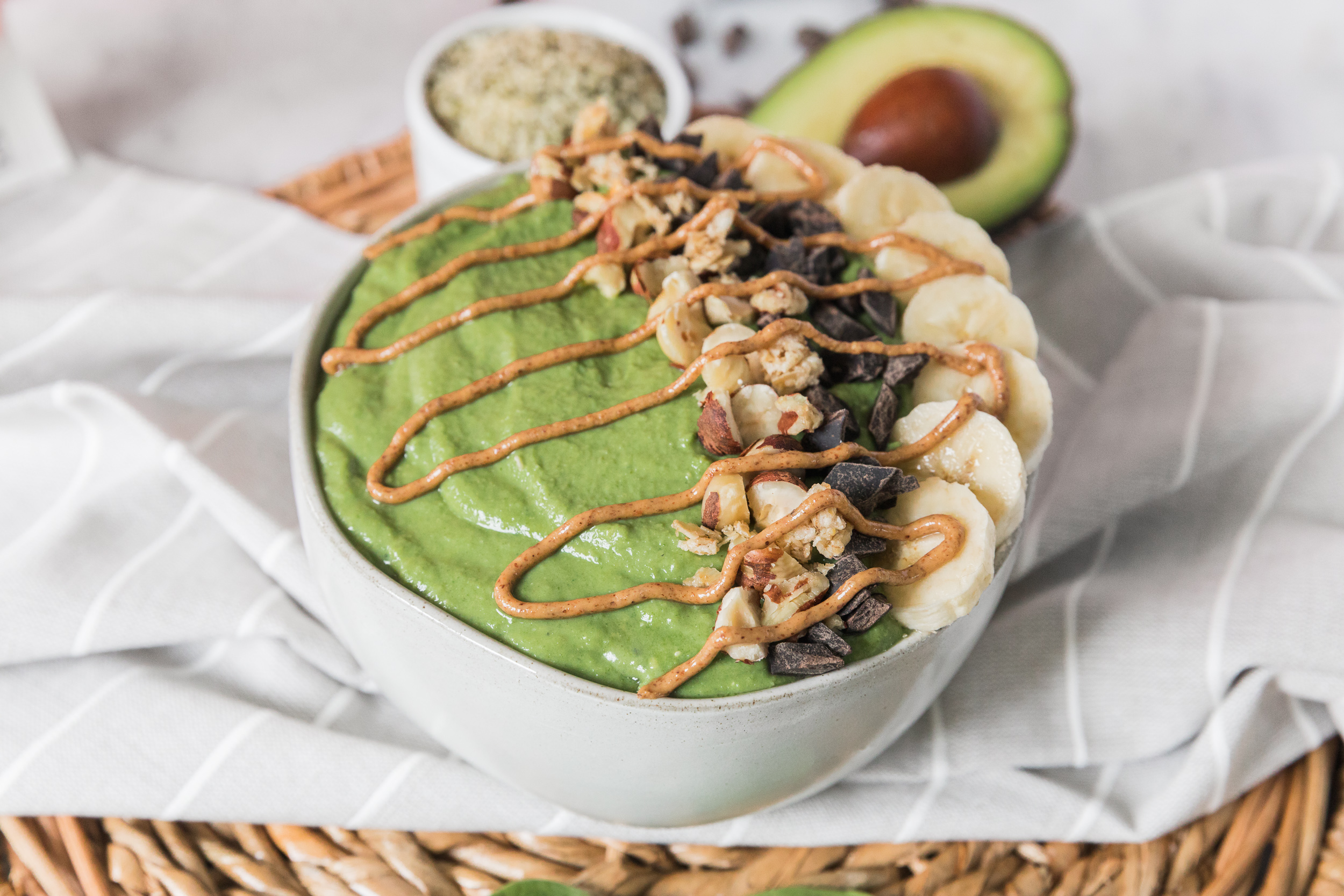 Why is Wheatgrass Great in Smoothies?
If you're tired of boring meals and unexciting snacking, then add a delicious wheatgrass smoothie to your diet. Whether you're losing weight or maintaining a healthy lifestyle, smoothies play a great role. But make sure you add some healthy foods to it, especially wheatgrass.
Because wheatgrass contains many vitamins and nutrients like vitamin A, vitamin C, vitamin E, iron, calcium, magnesium, and amino acids, it's the perfect superfood to take your smoothies to the next level. Check out the delicious smoothie recipes below and consider adding wheatgrass to any green smoothie!
Blendtopia Smoothies Powered by Wheatgrass
Blendtopia is proud to offer a wide variety of smoothie kits with all-natural ingredients hand-picked especially for you. We've taken the guess work out of smoothie blending to make living healthier, natural lives just a tad bit easier. While all of our delicious smoothie kits are packed full of delicious health benefits, two of them are enhanced with organic wheatgrass; Organic Detox Smoothie Kit and Organic Strength Smoothie Kit.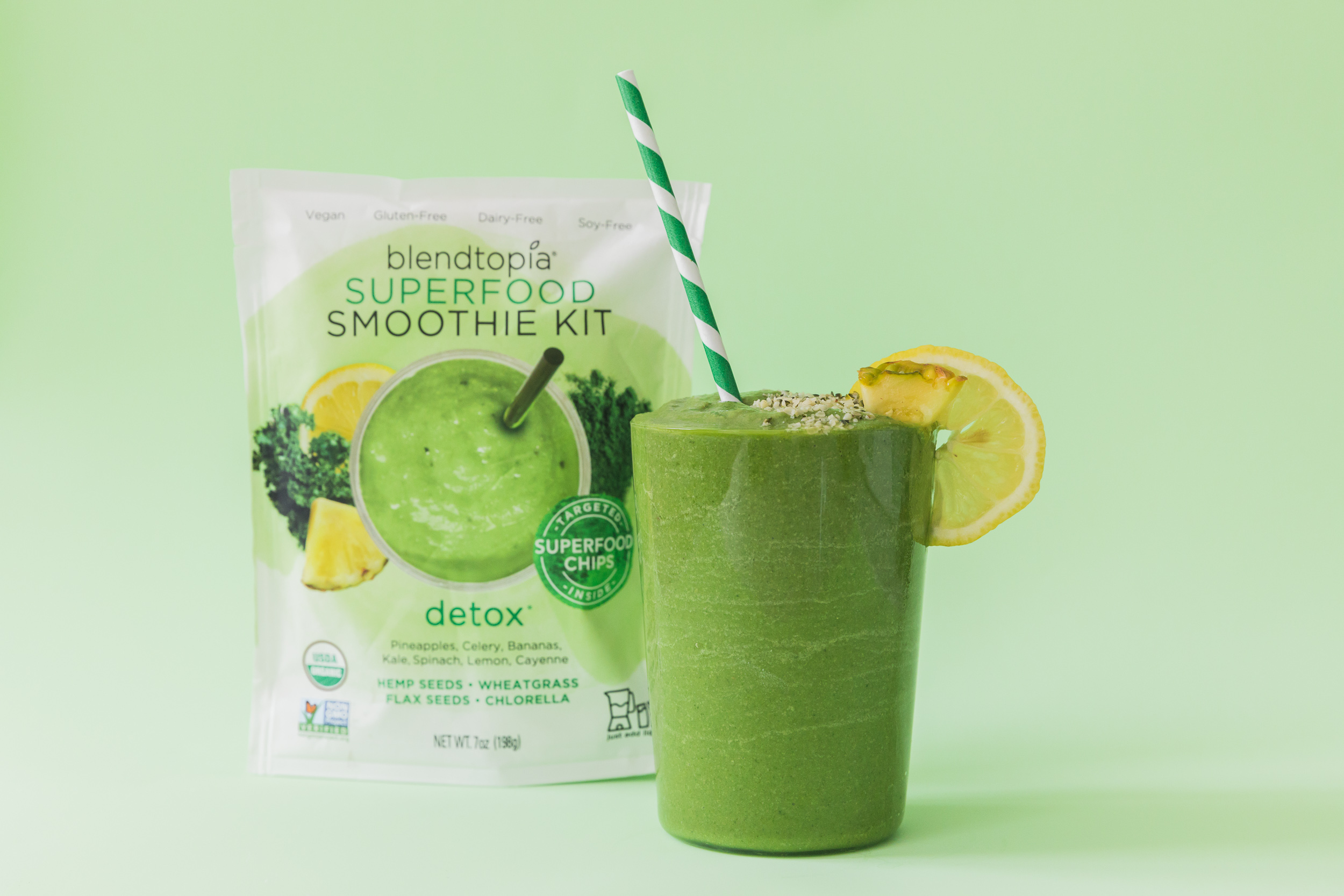 Organic Detox Smoothie Kit - Wheatgrass Smoothie Recipe
Blendtopia's Detox smoothie kit recipe was created to help purify your body while helping to raise alkalinity and support in overall healthy digestion. It's a perfect balance of detoxifying fruits, veggies and powerful superfoods and packs a powerful punch with 70% of your daily recommended vitamin C + 5g of fiber. Rich, powerful, detoxifying ingredients like lemon, cayenne, chlorella and wheatgrass has this blend standing out in a crowd. Our Detox blend is designed to aid in healthy weight loss and helps to fight bloat. This wheatgrass smoothie is also a key player in our 7-Day Smoothie Cleanse program.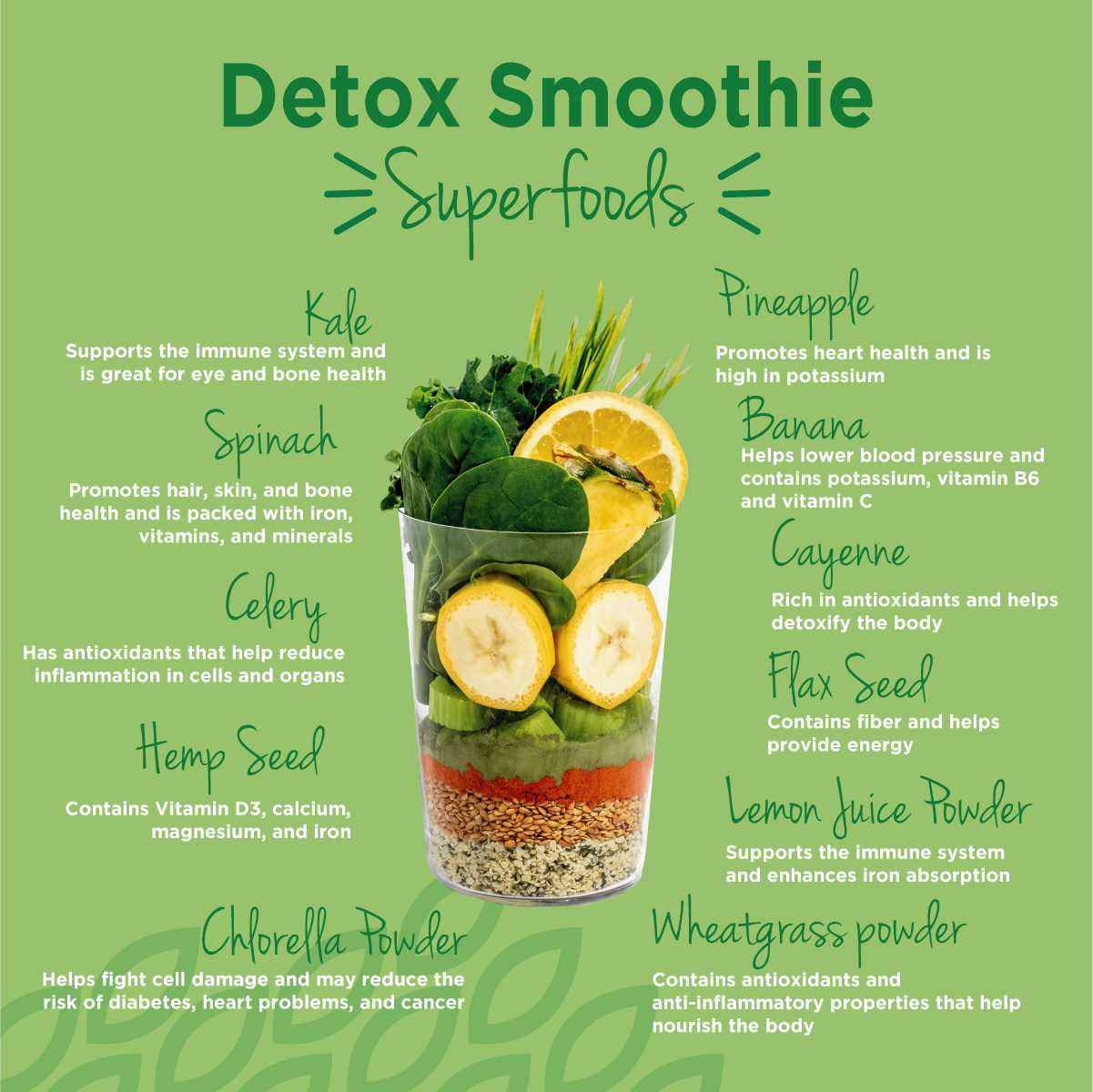 Green DETOX smoothie ingredients: organic pineapples, organic celery, organic bananas, organic banana puree (organic bananas, ascorbic acid), organic kale, organic spinach, organic hemp seeds, organic milled flax seeds, organic wheatgrass powder, organic chlorella powder, organic lemon juice powder, organic cayenne.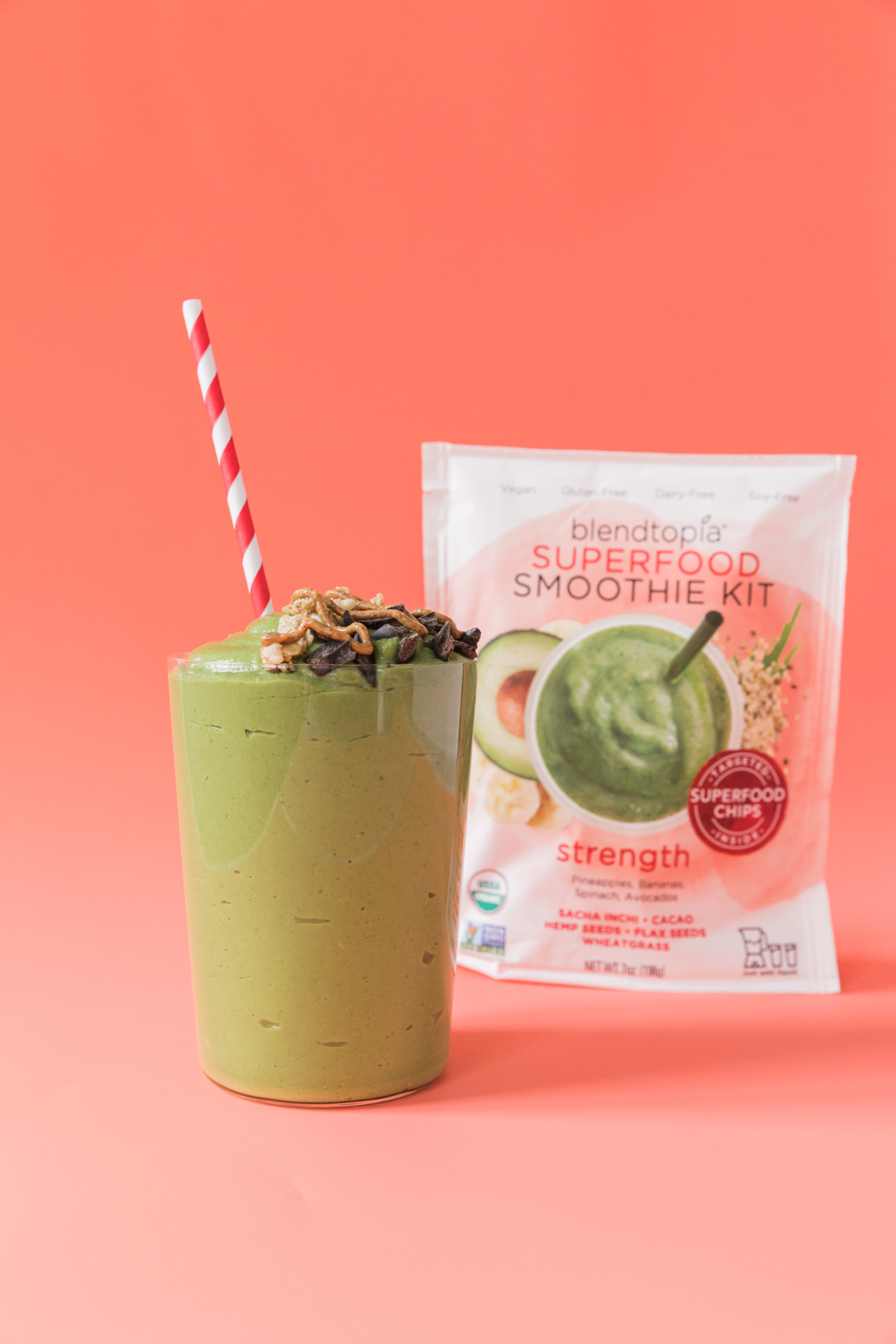 Organic Strength Smoothie Kit - Wheatgrass Smoothie Recipe
Quick, nourishing pre or post workout fuel can be hard to find but we've got you covered with our Strength superfood smoothie kit recipe. Strength green smoothie is a power-packed green machine loaded with bananas for potassium, raw cacao for magnesium and avocados, spinach, sacha inchi and nutty hemp hearts for the healthy fats, protein and fiber your body needs. Our Strength blend is a complete source of plant-based protein that also boasts all essential amino acids + provides a perfect balance of fiber and omega-3 fatty acids. This wheatgrass smoothie also plays a vital role in our 7-Day Smoothie Cleanse program.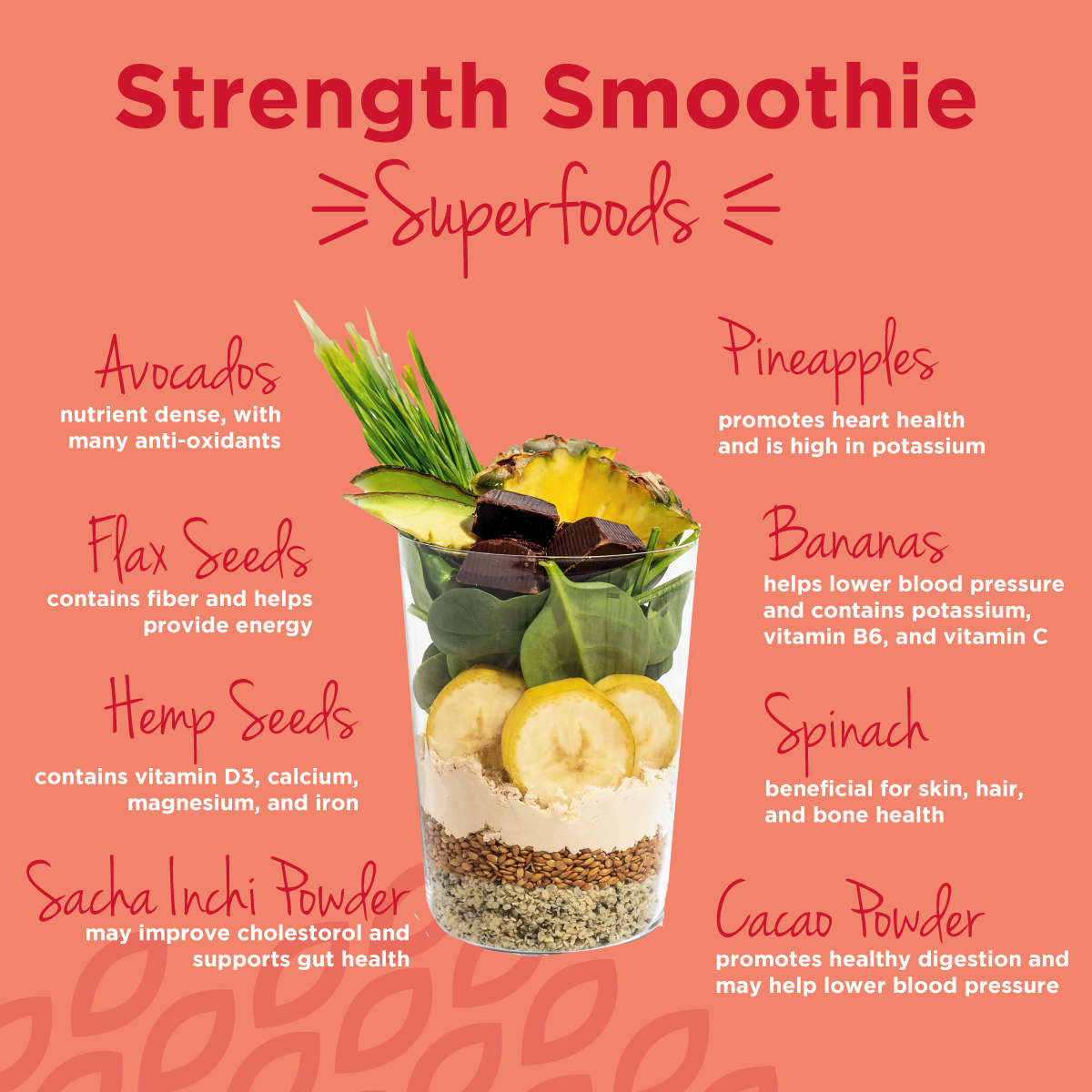 Strength green smoothies contain organic pineapples, organic bananas, organic spinach, organic banana puree (organic bananas, ascorbic acid), organic avocados (citric acid, ascorbic acid, salt), organic sacha inchi powder, organic cacao powder, organic hemp seeds, organic milled flax seeds, and organic wheatgrass powder.
The Final Story on Wheatgrass
Wheatgrass and its nutrients have been associated with many health benefits, such as maintaining weight, decreasing inflammation, lowering cholesterol, and controlling sugar levels. It's easy to grow, easy to use, and can be incorporated into any smoothie and meal with ease. What else do you need to know? Try adding wheatgrass to your favorite smoothie or give one of our smoothie kits a try. Trust us, you can't go wrong.
More Delicious Recipes and Smoothie Reading: