Ready to begin incorporating smoothies and healthy eating into your life, but unsure where to get started? Snag our Super Sampler Box! It has a little of everything to help you begin your fitness journey and explore which Blendtopia products work best for you.
---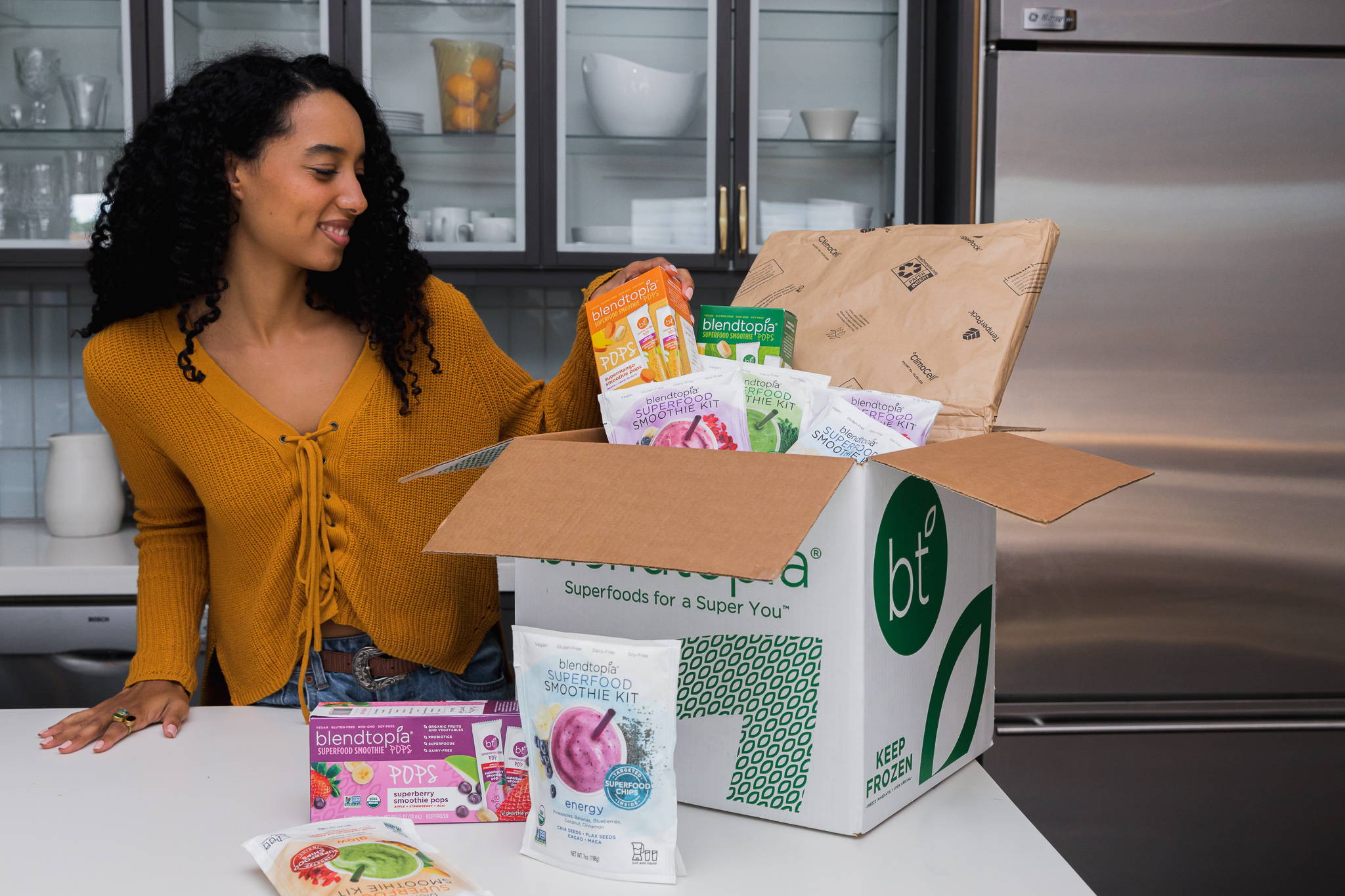 Each Super Sampler Box comes with 12 Blendtopia Smoothies
and 3 Boxes of Superfood Smoothie Pops!
Inside you'll find:
---
---
---
CLEAN CONVENIENCE - FUNCTIONAL NUTRITION
Our superfood smoothies conveniently ship straight to your doorstep and are ready-to-blend as soon as they arrive. Simply add your preferred blending liquid and you're ready to go!

Up your nutrition game with our power packed products, high in healthy fats and fueled with superfoods. We source our 100% organic ingredients from all over the world because we believe that at whole food and superfood nutrition go hand in hand.





Love these smoothies! Such an easy and fast way to provide nourishment to my body
throughout the day!
~ Jennifer N.





SMOOTHIE AND FITNESS ARTICLES
HOW TO MAKE A HEALTHY SMOOTHIE
Not all smoothie ingredients are created equal, and choosing the correct ingredients for a healthy smoothie (of choosing a smoothie kit with whole, natural quality ingredients) is key. Here are some of the best healthy smoothie ingredients:
Fruits: Berries, banana, apple, peach, mango, and pineapple.
Vegetables: Kale, spinach, arugula, wheatgrass, microgreens, avocado, cucumber, beetroot, cauliflower, and carrots.
Nuts and seeds: Almond butter, peanut butter, walnut butter, sunflower seed butter, chia seeds, hemp seeds, or flax meal.
Herbs and spices: Ginger, turmeric, cinnamon, cocoa powder, cacao nibs, parsley, and basil.
Nutritional and herbal supplements: Spirulina, bee pollen, matcha powder, protein powder, and powdered vitamin or mineral supplements.
Liquids: Water, fruit juice, vegetable juice, milk, non-dairy milk, coconut water, iced tea, and cold brew coffee.
Sweeteners: Maple syrup, raw sugar, honey, pitted dates, simple syrup, fruit juice concentrates, banana. Just remember that additions like fruit juice, milk, or sweeteners can also add calories and sugar, so tread carefully, and your morning smoothie routine will keep your fueled and full until lunch!
SUBSCRIBE FOR FREE SHIPPING
Need a weekly smoothie fix? We got ya covered. Once a month more your style? No problem! Subscribe today and get up to 24 smoothies delivered right to your doorstep.